Arm Lift in Palm Beach Gardens, Jupiter, and Port St. Lucie
Weight fluctuations and the natural effects of aging can cause loose, sagging arm skin due to a loss of elasticity. Fat deposits often accumulate in the upper arms as well. The board-certified plastic surgeons at Lickstein Plastic Surgery in Palm Beach Gardens offer upper arm lift surgery, also called brachioplasty, to reshape the upper arms to produce more slender and toned contours.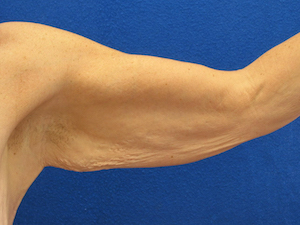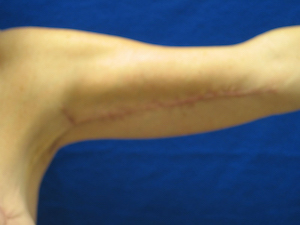 Am I a good candidate for an arm lift?
Ideal patients for arm lift surgery are in good general health and are bothered by extra skin on the upper arms. Patients who have undergone significant weight loss should be at a stable weight for at least one year before surgery. Cosmetic surgery patients should be free from medical conditions that inhibit proper wound healing.1

Will I have scarring from an arm lift?
Yes, there will be a scar from the incision, but it will be on the underside of the arm and our plastic surgeons will use their expertise to minimize any scarring.

Are there any risks associated with an arm lift?
Any surgical procedure carries some risk of complications or side effects, but you can minimize your chance of risks by choosing a qualified, board-certified plastic surgeon. Most common risks, such as pain and swelling, are temporary. While rare, more serious potential side effects include infection, inflammation, or temporary numbness.2

Can other cosmetic procedures be combined with an arm lift?
Contact Us
Our board-certified and award-winning plastic surgeons are here to help you look and feel your best. Contact us with any questions or to schedule your consultation appointment.
Contact Us
Sources
1 American Society of Plastic Surgeons. Arm lift. Available: https://www.plasticsurgery.org/cosmetic-procedures/arm-lift/candidates Accessed December 20, 2022.
2 Sisti A, Cuomo R, Milonia L, Tassinari J, Castagna A, Brandi C, Grimaldi L, D'Aniello C, Nisi G. Complications associated with brachioplasty: a literature review. Acta Biomed. 2018 Jan 16;88(4):393-402. doi: 10.23750/abm.v88i4.5609. PMID: 29350652; PMCID: PMC6166161. Available: https://www.ncbi.nlm.nih.gov/pmc/articles/PMC6166161/ Accessed December 20, 2022.
The Doctors at Lickstein Plastic Surgery have either authored or reviewed and approved this content.
Page Updated: