Breast Augmentation in Palm Beach Gardens, Jupiter, and Port St. Lucie
Women who are dissatisfied with the size or shape of their breasts may consider surgery to create the look they want. In some cases, breast volume may have always been a concern, driving women to make a change to improve their appearance. Other times, breasts might change their size and shape due to lifestyle choices, weight fluctuations or the natural aging process. The result can be a loss of volume that makes a woman feel self-conscious about her profile. No matter what your reason for pursuing surgery, a breast augmentation (augmentation mammoplasty) can help you enlarge the breasts while achieving balance in the shape and proportionality of your curves. With their prestigious education and extensive training in the art and science of breast surgery, the doctors at Lickstein Plastic Surgery have successfully performed breast augmentation surgery on many patients from in and around Palm Beach County and beyond, helping them achieve outstanding results, restoring or improving their self-confidence.
There are different reasons why a woman might choose to undergo breast augmentation:
Naturally Small Breasts
Women seeking to improve naturally small breasts are typically between 18 and 40 years of age and may be looking to achieve a more proportionate breast size. Women with petite frames may find that they have less breast tissue to work with, which can impact their augmentation choices. Those with small breasts combined with asymmetry or poor shape can also benefit from breast augmentation using implants.
Post-Pregnancy Breasts
Following pregnancy, women may note changes in their breasts that cause some concern or self-consciousness about their appearance. Often the breasts can become empty or deflated after the extreme weight fluctuations, hormonal changes and, breastfeeding from those nine months and beyond. Implants may fill out the breasts once again, restoring more attractive cleavage and a fuller shape. Breast implants following pregnancy can help women regain their pre-pregnancy body and renew their confidence in their appearance.
Changes Related to Aging
Women who were satisfied with the appearance of their breasts when they were younger may find that their breasts have lost volume as they have aged. The aging process can often be reversed through the placement of implants to restore fullness. In some cases, Dr. Lickstein and Dr. Forleiter combine a breast lift with augmentation to place breasts on a perkier, more youthful position on the chest wall. A lift also addresses skin laxity that can be common in the breast area over time and contribute to sagging.
Tuberous Breasts or Other Congenital Concerns
Some women may be self-conscious about their appearance due to breasts that do not have a typical shape or size. Tuberous breasts do not develop entirely, leaving a woman with an unnatural body profile and possible severe asymmetry. These conditions can be addressed through breast augmentation procedures that restore a natural shape and symmetry to the breasts. These corrections can make a woman more confident in her clothing, bathing suits and during intimacy with her partner.
Choices in Breast Augmentation in Palm Beach Gardens, Jupiter, and Palm Beach
The decision to undergo breast augmentation is the first of a series of choices that will need to be made in anticipation of the procedure.
There are Three Basic Types of Implants Available
Saline
Saline implants are comprised of a silicone shell filled with a saltwater solution. They are FDA-approved for women 18 years or older. Since they are inserted as an empty shell, saline implants may be filled during y our procedure to ensure a customized result. Smaller incisions may also be used to place saline implants, leaving less visible scarring behind.
Silicone
Silicone implants are created from a silicone shell filled with a silicone gel. They are FDA-approved for women 22 years and older. The gel substance tends to look and feel more like natural breast tissue, making it a good option for many women. The implants come pre-filled in a variety of sizes and both round and teardrop shapes.
Cohesive Gel
Cohesive gel implants sometimes referred to as "gummy bear" implants, are another type of silicone implant the features a filling similar in texture to gummy bear candy. While they are a bit firmer than traditional silicone implants, the advantage is that these devices will hold their shape even if they tear or rupture. Like other silicone implants, these are FDA-approved for women age 22 and over.
No matter what your choice of implant might be, our surgeons will help you determine the right size, shape and profile to match your body proportions. The primary aim of breast surgery is to create a natural result while adding the fullness and cleavage you want.
Implant Placement
Implants may be placed over the chest muscle and underneath the breast tissue, which is known as subglandular placement. This is a good option for women that have substantial tissue to cover the implant. Submuscular placement describes placing the implant underneath the tissue and a portion of the pectoral (chest) muscle. Submuscular placement may be recommended for women that have a limited amount of breast tissue since the location will conceal the edges of the implant. It is not a good option for bodybuilders or others that work out regularly, since the contraction of the chest muscle may distort the outer appearance of the breast.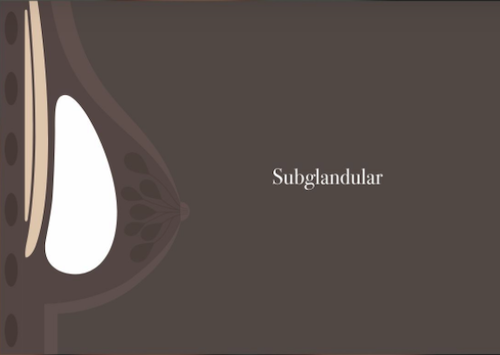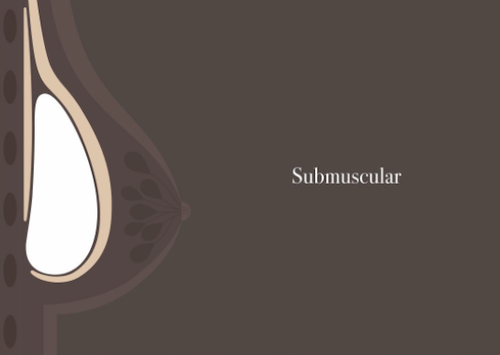 Incision Location
Your implants may be placed via incisions underneath the breast, in the breast crease, or around the pigmented area surrounding the nipple, known as the areola. The choice of location will depend on a variety of factors, including the type and size of the implant, implant placement location, and the preference of the patient and surgeon. You will know which incision will be used before your surgery as it will be discussed at your initial consultation.
Addressing Concerns
Women considering breast augmentation often come to their initial consultation with a host of concerns, which will be addressed by one of our surgeons at that first meeting. Some of those questions might include:

Will I have Scars after the Procedure?
Augmentation mammoplasty uses thin, well-placed incisions designed to limit visible scarring. However, scar formation varies based on the patient's natural healing abilities. If you do develop scars after your surgery, it is likely they will fade considerably over time. The doctors at Lickstein Plastic Surgery will provide you with detailed instructions on how to care for your incisions after surgery to minimize scarring as well.

Is there Pain with Breast Augmentation? & How Much Does Breast Augmentation Cost?
There is typically some discomfort after any surgical procedure, although the level of pain can vary considerably from surgery to surgery and patient to patient. Dr. Lickstein and Dr. Forleiter provide a numbing solution and oral pain medication to minimize discomfort in the days immediately following breast augmentation. Most patients find the pain only lasts a few days.
The price for breast implants varies between patients, depending on the type of implant and technique used during the procedure. Factors like surgical fees, facility costs, and anesthesia expenses can all affect the ultimate cost of your breast augmentation. A detailed quote will be provided during your consultation, allowing you to plan and prepare for the financial aspect of your surgery.

Am I a breast augmentation candidate?
Ideal patients are in good health and have realistic expectations about their results. Candidates often seek breast implants to restore a balanced overall appearance. Women with sagging tissue should consider combining a breast lift with their procedure. How soon after my pregnancy can I undergo breast augmentation surgery? How do I choose which implant is best for me? Will I be able to perform most physical activities after I have completed my recovery?
Breast Augmentation Procedure Basics
Breast augmentation may be performed under local anesthesia with sedation or general anesthesia, depending on the extent of the procedure and the preference of the patient and our surgeons. Incisions are made, and the selected implants are carefully placed into a created pocket within the breast. Incisions are meticulously sutured closed to minimize scarring after the procedure. The entire surgery typically takes about two hours to complete.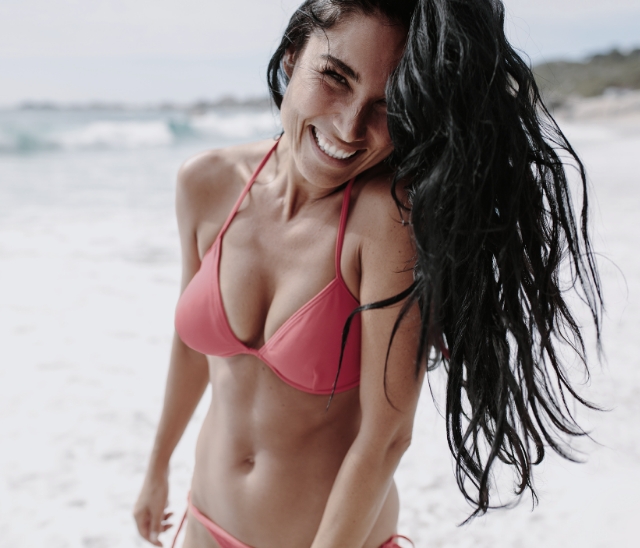 The Recovery Process
You will experience bruising and swelling after surgery, but our surgeons and staff will provide you with instructions to minimize those side effects and medication to manage any post-operative pain. You will be advised to wear a surgical support bra for several weeks during the recovery process, which limits swelling and provides necessary support and protection to the breasts while they heal. Most patients return to work within one to two weeks after their procedure and will be able to resume a regular exercise routine within about four weeks. Significant swelling should subside within six weeks, but residual swelling can persist for many months.
The Patient Experience
If you are still unsure about whether breast augmentation is the right choice for you, consider what these former patients have had to say about Dr. Lickstein and their surgical experience overall:
"I think that your office staff and nurses are friendly, courteous and very knowledgeable. I am thrilled with my surgical results and the way in which I was treated from the pre-surgery interview through aftercare. I highly recommend this office."
"I am so excited that I had breast surgery. It has boosted my self-confidence and self-esteem. I feel sexy for the first time in my life and I am 47 years old. This has been life-changing in an amazing way!"
"From the first pre-op visit through the last post-op visit, Dr. Lickstein and his staff took good care of me. The recovery period was exactly what I expected, and the results are great."
We believe the best results are born from an in-depth discussion of patient goals, followed by a customized treatment plan.
Contact us to request a consultation
Contact Us
The Doctors at Lickstein Plastic Surgery have either authored or reviewed and approved this content.
Page Updated: