Breast Reduction in Palm Beach Gardens, Jupiter, and Port St. Lucie
Breast reduction surgery, also called "reduction mammaplasty," is a surgical procedure to reduce the size and weight of the breasts. Patients undergo breast reduction surgery for a variety of reasons; some seek relief from neck, back, and shoulder pain caused by excessively heavy breasts, while some have an aesthetic goal of a more proportionate appearance.
At Lickstein Plastic Surgery, serving Palm Beach Gardens, Jupiter, Port St. Lucie, Tequesta, North Palm Beach, West Palm Beach, and Wellington, each patient receives a personalized treatment plan to suit their desired results. Breast reduction surgery typically takes several hours to complete. Our surgeons will usually create an incision around the areola, extending down in a vertical line and then across the crease of the breast, similar in shape to an anchor. Typically, the nipple remains intact and affixed to the underlying tissue, preserving the normal sensitivity. After excess tissue is excised, the breast and nipple are lifted and reshaped. The areola is typically reduced in size.
The Benefits of Breast Reduction
Improved Appearance
Reducing a disproportionately large bust can give you a leaner, more svelte appearance. A breast reduction can also allow you to wear a greater variety of stylish clothing.
Reduced Back Pain
The excess weight of large breasts can put stress on the back, while bra straps can cause disfiguring indentations in shoulders. Breast reduction surgery can relieve the pain discomfort caused by very large breasts.
Improved Athletic Ability
In addition to improving overall comfort, breast reduction surgery can allow women to engage in activities such as running and high-impact training, that they may have previously avoided due to large breasts.
Reduced Skin Irritation
Women with large breasts often suffer from skin irritation due to constant friction, either from bras or from the skin-on-skin contact that can occur with pendulous breasts. Breast reduction surgery lifts and lightens the breasts to reduce irritation.
Common Concerns When Considering Breast Reduction
Pain
As with many surgical procedures, patients may experience mild pain after surgery. Pain is temporary and will vary by patient. Medication will be prescribed to manage pain, and a compression bra will be provided to help as well.
Recovery
After breast reduction surgery, patients typically experience some swelling and bruising. Most patients return to work after two weeks. Exercise and strenuous physical activity is restricted for approximately six weeks.
Scars
Our doctors are experienced in minimizing visible scars for breast reduction patients. Most patients will have a scar around the areola, a vertical scar under the areola, and a scar along the breast crease, all of which will fade over time.
Results
After breast reduction surgery, patients are typically thrilled to have lighter breasts and a more youthful looking bustline. Many patients report increased comfort, greater mobility, and boosted confidence.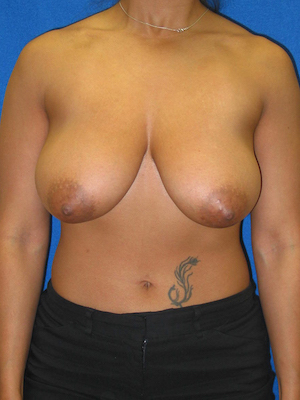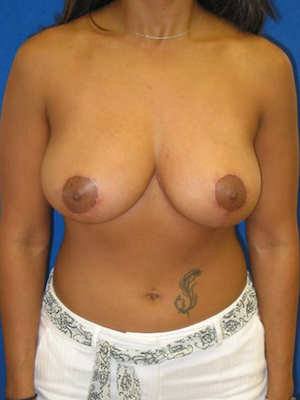 Breast Reduction Surgery Frequently Asked Questions (FAQ)

Am I a Candidate for breast reduction surgery?
Ideal candidates are in non-smoking and in good general health. Breast reduction is typically only performed on fully developed adults, but adolescents may be considered in extenuating circumstances. Patients should be at a stable and healthy weight.

Will my breast reduction surgery be covered by insurance?
Some health insurance plans provide coverage for breast reduction surgery if the patient is seeking a breast reduction due to pain or debilitating discomfort that is caused by the size or weight of their breasts.

What are the risks of breast reduction surgery?
All surgical procedures carry some risk. Risks may be reduced when the procedure is performed by an experienced, board-certified surgeon and the patient follows all post-operative instructions. Complications from breast reduction surgery are rare, but can include infection, bleeding, or changes in sensation.

Can I breastfeed after breast reduction surgery?
We generally advise patients who wish to breastfeed to wait until after childbirth to have breast reduction surgery. Although patients are typically able to breastfeed after breast reduction, there is a chance milk production may be limited.

What can I expect after breast reduction surgery?
Patients typically experience swelling for several weeks after surgery. Once your swelling and bruising subside, your results will be visible. Our surgeons will discuss your desired results with you before surgery so you know what size and shape to expect. Scarring will be visible at first, but will fade with time.
We believe the best results are born from an in-depth discussion of patient goals, followed by a customized treatment plan.
Contact us to request a consultation
Contact Us
The Doctors at Lickstein Plastic Surgery have either authored or reviewed and approved this content.
Page Updated: