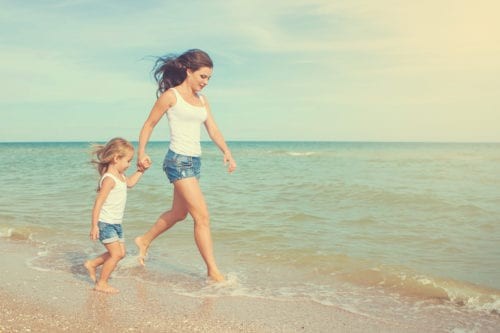 A mommy makeover is a surgical procedure performed by Dr. Lickstein that can produce dramatic, long-lasting results. It typically combines different procedures into a single surgical session, reducing risks, recovery and costs associated with treatment. To ensure your mommy makeover is both safe and successful, it is essential that you plan for your recovery time after your surgery. Lickstein Plastic Surgery has the basic facts about recovery from a mommy makeover you need to know before you schedule your procedure.
What is included in a Mommy Makeover?
It is helpful to know what your surgery might entail so that you can plan appropriately for your recovery from your mommy makeover. The most common procedures included are a tummy tuck and breast enhancement. Liposuction is also frequently added to produce the final sculpting results you want. Each of these treatments has its specific recovery process, which you will need to focus on to ensure you achieve the best possible results from all of them.
Liposuction tends to require the least amount of recovery time, with most patients back to their daily routine in a week or less. A tummy tuck involves a significantly more extended recovery period, with most patients able to return to the majority of their activities within three to four weeks. Breast enhancement, whether you choose augmentation, lift or a combination of the two, tends to fall somewhere between the two.
Preparing for Your Surgery
The recovery from your mommy makeover will be determined in part by your preparation going into your surgery. The healthier you are for your procedure, the quicker and more comfortable your recovery will likely be. Dr. Lickstein will help you get ready for your surgery by advising you on certain medications you should stop taking beforehand. In many cases, the medicines that you will be asked to stop are those that could interfere with bleeding, which affects post-operative bruising.
At the same time, certain medications or supplements might be recommended, as they could increase your overall health or reduce your bruising risk after your surgery. You will also be asked to stop smoking many weeks before and after your surgery since active smokers are subject to many more risks during and after a procedure. In addition, nicotine prevents the body from recovering efficiently, which could affect how well your incisions heal and the type of scarring that is left behind.
Making a Full Recovery
Dr. Lickstein will likely give you a timeline of when you can expect to return to light activities, a regular work schedule and more strenuous exercise. Patients are usually up and walking within a day after surgery since this facilitates the healing process. Most are back to work within two to three weeks if the job does not involve significant physical activity. Strenuous exercise may be restricted for as many as eight weeks to provide the body ample healing time before challenging it with aerobic activity or weight training.
You should understand how long your recovery from your mommy makeover will take before you undergo your procedure, which gives you the chance to plan for that healing time to ensure it is restful and stress-free. You may want to clean or prepare meals before your surgery, so you can relax in a peaceful environment with chores already completed. You may also line up care for your children and pets for the first few days, so you can focus solely on resting and recuperating. The more rest you allow yourself, the faster you will be back to your regular schedule, and the more efficiently your body will heal.
A mommy makeover offers intense, long-lasting results, but it also requires a prescribed amount of recovery time afterward. By planning for your recovery, you are more likely to give your body all the time it requires to feel and look its best after your procedure. To learn more about a mommy makeover or the associated recovery time, Contact Lickstein Plastic Surgery today at 561-571-4000.