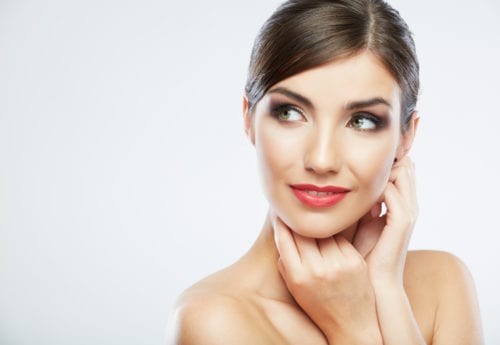 You have to wear your skin every day for the rest of your life, so shouldn't you feel confident in it? Sometimes serums and moisturizers just don't cut it, leaving you to believe you just have to deal with imperfect skin. Thanks to new science, you can effectively remove years of damage and restore your skin to a lively, natural-looking glow. If you're looking for radiant skin without a lengthy recovery, trust in Dr. Lickstein and his highly-qualified team to release your inner glow with Halo.
Why Halo Works
At Lickstein Plastic Surgery, we understand that everyone's skin needs and goals are different, and we're determined to find the best solution for you. With the Halo laser treatment, Dr. Lickstein is able to completely customize each patient's treatment based on their unique skin type.
As the world's first and only hybrid fractional laser, Halo is a welcoming addition to the cosmetic medical space. In just one pass, the laser delivers dual wavelengths—non-ablative and ablative—to the same treatment zone.
Before the revolutionary Halo laser, patients had to choose between a procedure with terrific results, but a difficult recovery period, or one with minimal downtime and only a slight transformation. With Halo, patients will receive the best of both worlds: exceptional results and a quick recovery.
When you undergo this innovative procedure, you can expect to see dramatic improvements to various skin complications, including:
Skin discoloration
Sun damage
Aging skin
Uneven skin tone
Overly large pores
Texture issues
Fine lines and wrinkles
Procedure Fundamentals
Because the treatment is combining two effective treatments, you can expect to spend roughly 2-3 hours at the office. The time, however, will be well spent when you leave Lickstein Plastic Surgery with major improvements in your skin tone and texture.
With Halo, you get to choose how many treatments to receive. Before the procedure, you and Dr. Lickstein will discuss your skin needs and goals. You will have the option to have one or two aggressive treatments that offer quick results or have a small handful of less intrusive treatments that offer a similar outcome over a longer period of time.
To ensure your total comfort, the team will place a topical anesthetic on your skin prior to the treatment. Overall, you can expect a pleasant and relaxed experience, but some patients encounter a feeling of heat and slight prickling. Following the treatment, you may continue to feel a little warm, but generally the feeling will pass after about 1-2 hours.
One of the best benefits about Halo is the quick recovery time. You should be able to return to your daily activities about 24 hours after treatment. During the first day, however, you should keep your skin protected and follow any instructions given to you by Dr. Lickstein.
Radiant Results
The only thing better than total skin rejuvenation is a treatment that gives you quick results. With Halo, you will begin to see results two to five days following treatment and will continue to improve over time. While many patients experience notable pigmentary improvement in the first two to three weeks, the dermal generation phase continues to happen for a few months.
Receiving Halo means you will get to enjoy your natural beauty for many years. It is important to note that minimal skin maintenance, like wearing sunscreen, is an important factor in helping to keep your new, healthy skin as radiant as possible.
Want to Get the Glow?
If you're looking for a doctor with more than just experience in cosmetic procedures, you've come to the right place. Skills, training and education are crucial factors when it comes to choosing a plastic surgeon, but a doctor's overall philosophy is equally important.
Patients often describe Dr. Lickstein as having the heart of teacher. With so much misinformation floating around, Dr. Lickstein takes his role as an educator very seriously. He will set aside time to thoroughly explain procedure details and best options, allowing patients to set aside their fears.
If you're ready to enhance your natural beauty, the friendly team at Lickstein Plastic Surgery would love to speak with you. Schedule your Halo consultation today by calling 561-571-4000.